A powerful workshop based technique for identification of risks to personnel, environment and asset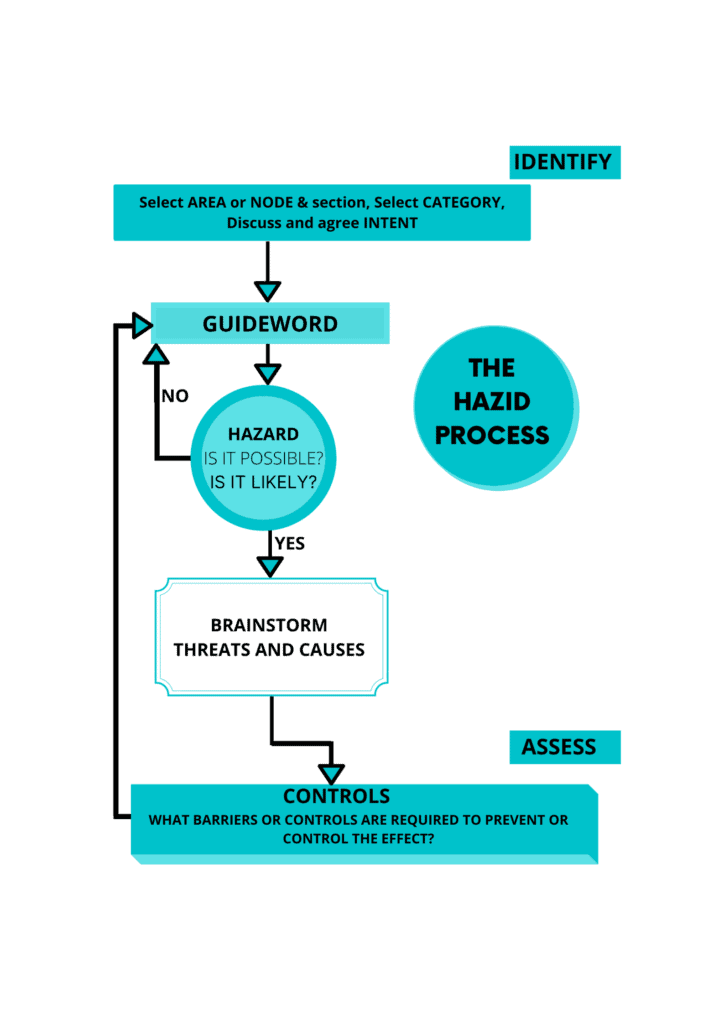 Challenges
Governing Acts and regulations requires actors in any business to carry out relevant HSE (Health, Safety & Environment) studies during design as well as prior to construction and during operation. A HAZID study is conducted in order to identify hazards associated with a design or an asset and is a systematic method for identification and description of potential hazards and their consequences.
Carrying out a HAZID early in the project will ensure that risks are eliminated or reduced to as low as reasonable practicable (ALARP) in terms of personnel safety, environmental damage and asset damage / production interruption.
Solution
A HAZID is a tool for hazard identification, used from early stages in a project through operational phases. Based on the information at hand at the stage of the study (sketches, drawings, P&IDS, diagrams, plot plans etc) a structured review is conducted. Using pre-established suitable guidewords, a brainstorm technique is applied, and by involving client personnel such as designers, client disciplines, project management, commissioning and operations the knowledge of the facilities and the project is ensured.
The major findings and hazard rankings help to deliver HSE compliance and form part of the project risk register that may be required by relevant authorities. The risk register may also include suggestions on risk mitigating measures for the client to evaluate.
Why use Xafe
Xafe has planned and conducted a vast number of HAZID studies for clients. Covering any aspect from down hole and sub-surface through topside to pipelines, landfall and onshore facilities in any design phase, Xafe tailors the HAZID study to suit the client requirements and request.
Our approach
The study will be facilitated by an experienced HAZID lead with solid understanding of all disciplines, accompanied by a safety engineer acting as a scribe capturing all findings and major discussions. The facilitator will challenge the project team and client personnel on various aspects of risk in order to enable a mindset where the HAZID team is enabled to identify all potential hazards.
Xafe may take full control of the study including preparation of Terms of Reference, Call for meeting, assisting the client in preparation of presentations and securing offsite venues if required.
Key Benefits:
A well organized HAZID study activity will deliver a thorough identification of hazards and safeguards at any stage in the lifecycle of a facility. Team input ensures that:
HSE hazards are revealed at an early stage in the project, before significant costs have been incurred
Hazards are recorded and actioned so that they can be prevented, mitigated or highlighted during design
Action response are auditable by management and authorities
Design or construction delays and budget over-runs are avoided
Fewer unknowns are revealed at various later engineering phases
FAQ
How long does a HAZID study take?

The duration is determined based on the nature of the project. Typical HAZID studies durations are 1/2 day, 1 day or two days, but more comprehensive projects may require longer time pending on the number of areas / nodes to be covered.
Will you provide risk ranking on the findings?

If requested by the client risk ranking will be performed based on client risk matrices. If client risk matrices does not exist, Xafe will provide a matrix to ensure risk ranking is enabled.
What will the client have to provide?

The client must provide someone to present the scope for the HAZID study and assist in identifying relevant personnel to attend the workshop.